My Agenda for use with FITBIT® Ionic/Versa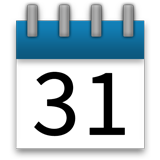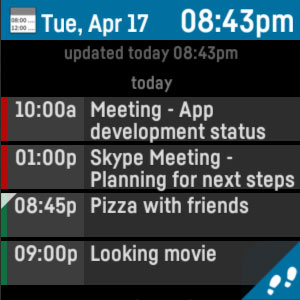 This app show you your agenda at a glance with 16 appointments maximum. For every appointment the start time and date, length, title and location will be shown.
You can change font size, colors and switch between compressed or expanded row view.
The app also shows the current time and date, so you can keep it open instead of your current watchface.

You can use one Microsoft Calendar Account or one Google Calendar Account or both together. To setup these accounts, please open the Fitbits phone app and open the app settings. Use the Login fields in this setting screen. The calendars will be synced at every app start, maybe you need to sync your Fitbit watch with your phone to get it done.

To switch the view of all appointments for the day or only the upcoming events, please press the upper right button on the watch.
To switch between the shrinked or expanded view, press the lower right button on the watch.
Requires a 2$ payment via K·pay after a free 1-hour-trial. In cases of reinstallation you will stated to purchase again. Please open the given website but open the link for 'Already purchased' and enter your mail address and current code.
Fitbit is a registered trademark and service mark of Fitbit, Inc. My Agenda is designed for use with the Fitbit platform. This product is not put out by Fitbit, and Fitbit does not service or warrant the functionality of this product.
FAQ
If your Kiezelpay code does not appear or is not found:
Reboot your Ionic by long press the left and lower right button for 15secs and then press the left button. Wait for some minutes until the next code appears.

Change the clock format:
This setting is located on Fitbit Settings Page on the Fitbit Dashboard. Look for the "Clock Display Time" section where you can switch between 12 or 24 hour. Then resync your watch using the Fitbits phone app.